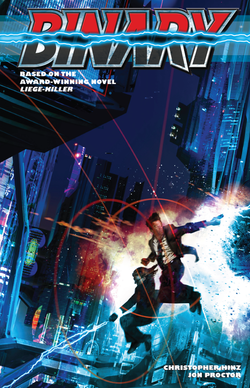 I'm thrilled to announce that BINARY, which reimagines award-winning science-fiction thriller
Liege-Killer
as a graphic novel, is finally in print.
The collaborative project was overseen by producer Etan Ilfeld. The art is by Jon Proctor and the cover by Stephan Martiniere, with letters by Comicraft. Stuart Moore and Marie Javins of
Botfriend Productions
handled editorial and production work.
BINARY is
available initially through Amazon U.S. and Amazon UK. A digital version from Comixology is expected soon.