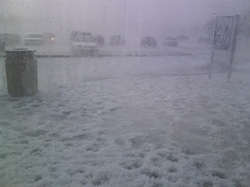 A slow afternoon, a last-minute decision to see Godzilla in 3-D. Just when the movie nears its end, with the big G crashing San Francisco as a prelude to battling a pair of radiation-hungry beasts...
The film stops, the house lights go up and a tremendous racket fills the plush Wyomissing, PA, theater. Moviegoers, including yours truly, rush to the lobby to be confronted by a wicked hailstorm. Golf-ball sized rocks of white ice slam the warm spring ground with brutal fury.

The aftermath: many car windows cracked or shattered, and pretty much every vehicle in the area not garaged or under a tree pinged and dented. (I was lucky. No damaged glass, just a hood, roof and trunk lid that now resemble the lunar surface.)
Persuaded theater management to surrender a rain check, so I'll be coming back. I have a sneaking suspicion how the Godzilla movie ends, so maybe I'll wait for the DVD release and instead check out the new X-Men flick.
All in all, between monster fury onscreen and nature's fury pummeling the parking lot, it turned out to be a hailishly memorable day.