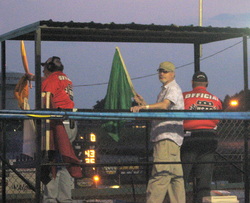 As a lifelong fan of auto racing, I was thrilled with the opportunity to wave the green flag for a feature event last night at the Kutztown Fairgrounds, aka "Action Track USA," in Kutztown, Pennsylvania. (top photo, getting ready as starter Mike Feltenberger gives the field the "one to go" signal)
The evening, which included pit passes, racing-themed t-shirts and being photographed with a feature winner in victory lane, was made possible by way of a premium item donated to nonprofit BCTV's annual Octoberfest fundraising auction. Mike arranged for the donation and yours truly had the winning bid.
The dirt track, one-fifth of a mile according to National Speedway Directory although probably closer to a quarter mile for those drivers running out near the wall, was lightning-fast and the competition fierce in all four divisions. I waved the green in the first of the twin 600cc micro sprint features and watched part of the race from the starter's stand, a unique viewpoint for the action.
Later, in the SpeedSTR feature, I was rooting for famous racer Kenny Brightbill, whom I used to watch dominate the long-defunct Reading Fairgrounds oval (135 feature wins and four track championships). A combination of great driving and racing luck earned Brightbill the checkered flag and me a chance to shake his hand in victory lane.
I've attended countless races at dozens of tracks. The evening at Kutztown was obviously a memorable experience. Yet I can say unequivocally that the ultra-competitive racing at this place is among the best I've ever seen. More info on the track
here
.
Special thanks to Mike Feltenberger and company for arranging an enjoyable evening, and to Dave Kurtz and Dave Balloch for their photographic efforts.