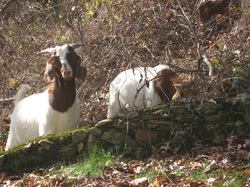 Is it just me or are banks growing unfriendlier by the year? More and more locked doors--having to buzz to gain access to brick & mortars--unfriendly tellers and tedious sign-in policies for online access are becoming the new norm. Of course, the banks have justifiable reasons--they naturally want the biggest possible dragons squatting on their hoarded riches to make it difficult for thieves and hackers. Still, I find it increasingly annoying. Maybe I'm just showing my age, having grown up in a different era. Hell, I remember savings accounts that paid 5% interest.

The lazy hazy days of summer? No way.

There's been a bit of haze in the air on a number of occasions. However, "lazy" is not in the cards at the moment as I've been keeping busy with a number of writing projects. Unfortunately, nothing I can announce just yet. But check back for updates.