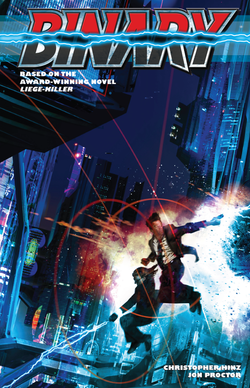 BINARY, which reimagines cult favorite
Liege-Killer
in a style better suited to visual media, moves ever closer to publication with the completion of this dynamic cover by noted artist
Stephan Martiniere
.
Interior artist/colorist Jon Proctor has brought the story to life in 125 beautifully illustrated pages, while the good folks of Comicraft have done their usual fine job with the letters.
Overseen by publisher/executive producer (and passionate
Liege-Killer
fan)
Etan Ilfeld
, the project couldn't have gotten off the ground without the relentless dedication of Marie Javins and Stuart Moore of
Botfriend Productions
. Handling all editorial and production aspects, the duo worked their "bots" off to make BINARY a reality.
Included as a bonus will be my first original prose short story set in the Binary universe. "Ever the Twain Shall Meet" features a protagonist who seems fated to a series of deadly encounters with the two-headed super-predators (aka, Paratwa assassins).
Expect publication plans for BINARY to be announced soon. As of now, it's likely that the digital version will reach the starting line first.
Stay tuned!